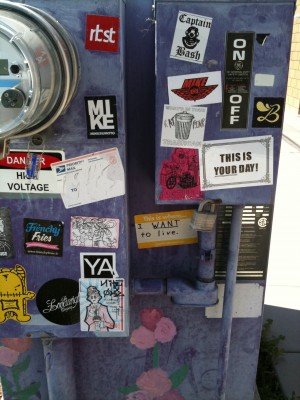 "This is where I WANT to live."
30th street in South Park, San Diego, CA, on an electrical box next to an amazing Shepard Fairey mural.
I recently moved to the neighborhood. Before this I was living in a tech park, right next to where I worked. It was convenient, but not a fun place to live. When my lease was up, I started to look for a new place. I wanted to live somewhere that had cool stuff within walking distance. A coffee shop seemed to be high priority for me too… some place I could go and hang out and work on personal projects and stuff.
The first time I visited South Park, I fell in love. It had a certain vibrancy to it. It felt like a nice, tight, small community inside of a big city. It felt like my people – full of weirdos and freaks and artsy types and people who just love the community. There are little, local shops selling all manner of crafty goodness. And it's home to a rather delightful coffee shop – Rebecca's. I just felt this overwhelming urge. "I HAVE to live here" I said.
It took me a while to find an apartment, but I eventually found one within a couple of blocks of Rebecca's, which quickly became my extended living room. I started to meet people who worked at all the local restaurants and shops. I started to really explore and feel connected to my new home. It was an amazing feeling to actually WANT to be living where I was. It was also empowering in the sense that I had this goal and I made it happen. Life was good.
I was always struck by how artistic the community is. There is always some performance or music happening at the bar or coffee shop. The sidewalks and signs are overflowing with street art, both commissioned and not. Everyone seems to be involved in some sort of artistic endeavor. It's glorious. And then a few weeks after I moved to the neighborhood, i happened upon the Shepard Fairey mural. It is absolutely GORGEOUS. I just stood there staring. I couldn't believe such an amazing piece of art was just right there, practically in my backyard. It was like having an art museum I could just walk to whenever I wanted. I know I had made the right choice to move here, surrounded by people who truly appreciate the community they are living in.
The morning after my first night in my new apartment, I walked to the coffee shop for breakfast. I told the barista that I had just moved to the area. She smiled with this knowing look that I had discovered a gem of San Diego and said "Welcome to the community."
Welcome indeed.