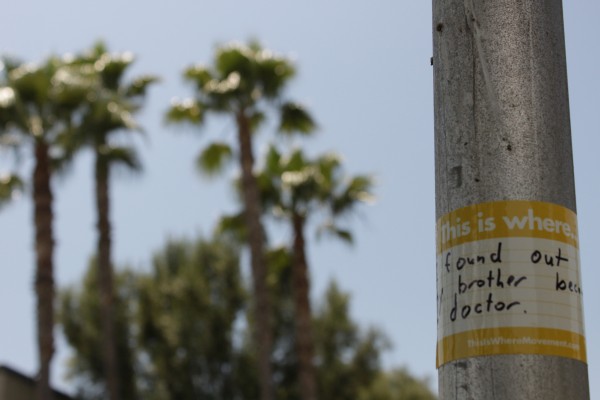 "This is where I found out my brother became a doctor."
Outside my office on Flanders Drive, San Diego, CA
My brother is two years older than me. He is super smart and super nerdy. I adore him. He got his undergrad degree in Physics from the same school I went to, and then went on to UT Austin for his graduate degree in physics specializing in lasers and optics.
It took 16 semesters. While he was there, he met a girl, got married, bought a house, found out he didn't like his research area and wanted to move more into teaching, had his adviser actively working to not let him graduate, broke 8 lasers, wrote a 105 page dissertation and scheduled his defense.
That day was SO exciting. It was such a long time coming. He certainly deserved this and then some with all the work he put into it. On the day of the defense, we all waited around nervously. Eventually I got a phone call while I was at work. I ran outside and he said "Well… I'm a doctor."
I had rehearsed what I was going to say, but I was speechless. All that came out was "Damn. I'm so fucking proud of you right now I can't even rip on you."
I could practically hear him smile on the other end of the phone, but in his typical stoic nature he calmly said "Thanks. That's probably the best compliment I could get from you."
So here's to my big brother: I'm proud of you, doc.