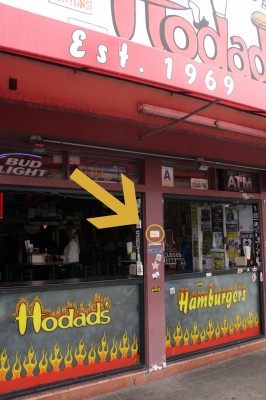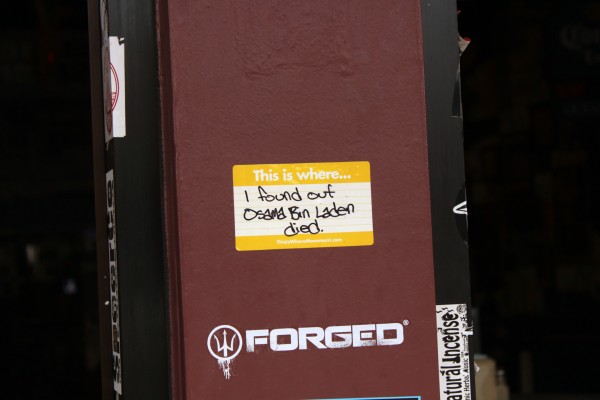 "This is where I found out Osama Bin Laden died."
Outside wall, between two windows at Hodad's, Ocean Beach, San Diego, California
For the uninitiated, Hodad's is something of an institution in San Diego. And yeah, they may have opened one up downtown, but the OB location is the only true Hodad's as far as I'm concerned. There are better burgers in town, but Hodad's offers that rare mix of affordable, over-sized burgers with a funky atmosphere and the hollowed out cab of a VW bus.
We were seated in the bus – prime real estate as far as I'm concerned. The dash was replaced with a short section of bar-top, for us to eat off of. And we looked out through the empty space where the windshield used to be, at all the other patrons eating at more traditional tables. I'd eaten here a dozen times, and had NEVER been seated at the bus.
We enjoyed our cheeseburgers, and our milkshakes, and the atmosphere, and the bus, and each other's company.
Suddenly, a waiter came running out of the kitchen and shouted "WE GOT OSAMA!"
The room quieted with twenty conversations being interrupted simultaneously. People seemed confused.
"WE KILLED THAT SON OF A BITCH!!"
People cheered.
"THIS ONE'S FOR YOU OSAMA!!"
The waiter turned off some random punk rock anthem blaring through the speakers in favour of AC/DC's 'Highway to Hell'. The general mood in the restaurant was one of jubilation. But inside the bus, feelings were more complex. "Are people seriously celebrating the death of a man? I mean he was an evil man, but should we really be celebrating death at all?"
After the final chord faded, a TV was turned on directly above and behind the bus. From the sounds of it, it was a cable news network announcing the death of Bin Laden prior to Barack Obama's press conference. But stuck in the bus, we couldn't see it. Instead, what we had was the audio of the newscast. The bus's empty windshield acted as a television screen looking onto a smattering of tourists' and locals' reactions, as focus was stolen from food, friends, and family, and given to the flickering box just above our heads.
It was a surreal and conflicted moment. And now Hodad's and the coveted VW bus seating are forever associated with Osama Bin Laden's death for me.