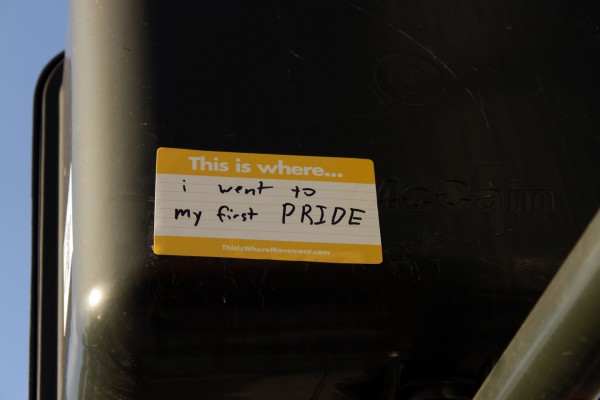 "This is where i went to my first PRIDE"
South corner of Normal and University, Hillcrest, San Diego, CA
I haven't really been out all that long. On top of that, I never really felt like I was part of the LGBT community. I didn't really go to any lesbian clubs or bars or anything. My friends are pretty evenly mixed queer and straight. I never really thought of pride as my 'thing'. It didnt feel like it was FOR me.
Finally, last year, some of my friends convinced me to check it out. They said I had to at least experience it once. I'm glad I did. It wasn't what I expected.
First off, it seemed tamer than I thought it would be. I wanted more assless chaps, and mostly naked gay firemen dancing their way down the parade route. There was some of it, and it was appreciated, but a lot of it struck me as… TOO normal.
Secondly, it seemed pretty corporate. It was really jarring to see Best Buy walking in the parade in their khakis and blue polos. I have no idea why they were there. I mean, I'm glad Best Buy seems to be supportive of the LGBT community, but it struck me as odd. Like it was mainstream culture invading queer space. Along with this, the number of politicians marching or riding in cars was a bit unexpected. I realize that a number of them have fought for LGBT rights, so I guess that's pretty cool, but I couldn't help shake the feeling that it was co-opting our parade/festival for campaign strategy.
Not that pride was bad by any means. It was a very positive experience. It was nice to be in a place where being queer was the norm. It was nice to just be out fully… to not be assumed I was straight… to feel like we don't have to hide.
The most profound thing to me, however, was the amount of femme lesbians I saw. One of the reasons I have felt uncomfortable in a lot of lesbian spaces is that I don't feel like I fit in being relatively femme myself. I feel like I don't belong, and that there aren't too many of us. I realize that many of us 'pass' for straight and thus just blend into straight society, which has its advantages for sure, but also sort of made me feel alone. During pride it was refreshing to see all manor of lesbians being publicly out and visible. It gave me more of a sense of belonging to the community.
All in all, pride was pretty gay.