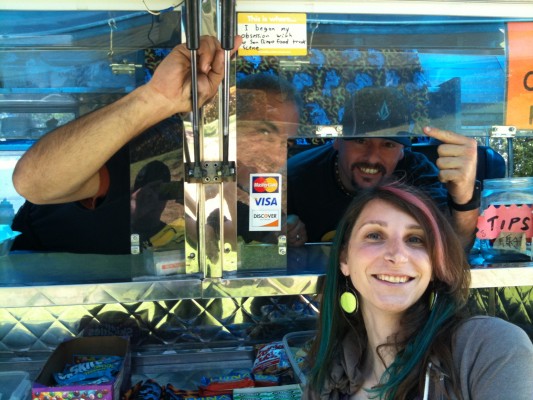 "This is where I began my obsession with the San Diego food truck scene."
Right above the window your order from on the Tabe food truck
I love food. I also love adventure. And community. Food trucks hit all these things for me.
My introduction to the food truck scene came one hungry evening a few months ago. I was hanging out with my friend and we were trying to figure out where we should eat. We tossed around our usual ideas but nothing really seemed to catch our interest that night. We had been adventuring all day, and wanted to keep going… to try something new. She suggested we hit up a food truck that she ate at once before.
I admit I was slightly hesitant, but before I knew it, smart phones were out checking the twitter feed, food truck was located, and we were off driving towards an ally behind a bar in North Park and towards an amazingly delicious meal.
We pull up and I see the Tabe truck. "Try the pork," my friend says.
Spicy Korean pork taco. I was intrigued.
I placed my order, was shocked at how cheap a meal this was going to be, and waited eagerly. A few minutes later, my name was called. I picked up my food, sat down on the hood of my friends car, and took the first bite. I turned to my friend and said "this… this THING" gesturing around at the scene that was unfolding before me, "is the greatest thing ever."
I instantly became a Tabe disciple. I followed the truck on all the social media sites I could. A week or so later, I saw they were going to be setting up shop close to work. I got there early, walked up to order and the man working behind the window immediately greeted me "Welcome back! It's…Liz, right?" I was shocked and pleased that he had remembered my name. The feelings with the truck were so… personal. People cooking good food, for loyal customers and being able to chat directly with those making the delicious creations.
With such a positive initial experience, I started collecting trucks. Every day seemingly, I would look up which trucks were close by. It was mind blowing just how great of food was being served from mobile locations. I was in love. I am convinced that some of San Diego's finest food right now is being served from trucks.
I have eaten at probably close to a dozen food trucks, most more than once. Most people working at the trucks remember my name after one or two visits. I love the sense of adventure and break it provides from the work day, as well as providing for a full stomach.
The food truck scene is glorious, and Tabe is where it all began for me. The food AND people are wonderful. They were kind enough to not only let me place a sticker on their truck, but in such a prominent location. And they were more than happy to pose with me for the picture. You guys rock. Go show them some love.