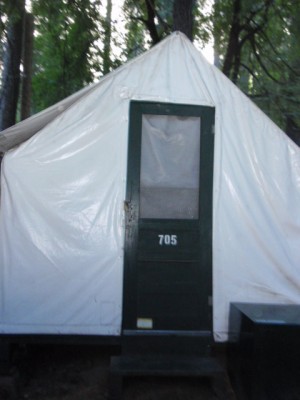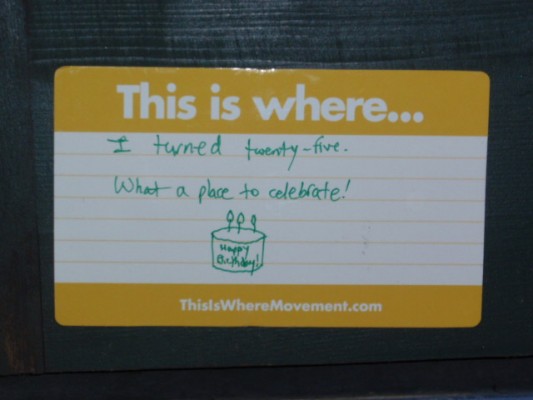 "This is where I turned twenty-five. What a place to celebrate! <Drawing of a cake with 'Happy Birthday!' written on it> "
Stuck at the bottom of the doorframe of cabin 705, Curry Village, in Yosemite Falls, Yosemite National Park, California.
A friend and I went on a two-week road trip, and the way the scheduling worked out, my birthday fell right smack in the middle of the journey. On July 9, the two of us reached Yosemite Valley and hiked to the top of Yosemite Falls. After a fantastic dinner of pizza and beer, we found ourselves exhausted and went to bed early. The next day was my birthday! We spent the morning looking at giant sequoia trees and enjoying nature, and in the evening we were in San Francisco trying to find a decent bar to enjoy a celebratory rum and coke (and failing – we were in a different neighborhood than we expected, and ended up in a Spanish-language bar, but that is a story for another time).
There was no actual cake, and even if there had been I do not think we would have been allowed to light candles (because only you can prevent forest fires), but waking up the morning of my 25th birthday in such a beautiful place was … well. I have no good words for it. It was wonderful.