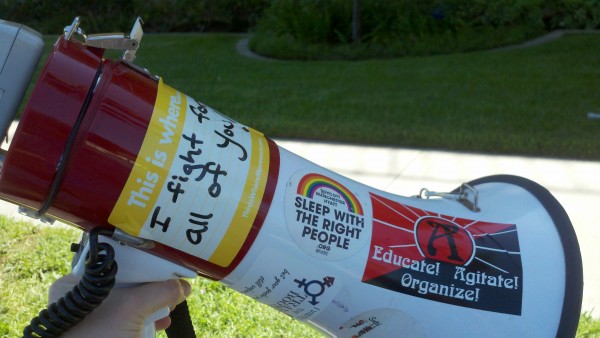 "This is where I fight for all of you!"
I'm a bullhorn belonging to a San Diego activist. This sticker is stuck to my side. I go where I'm needed, you might see me at a rally near you!
I'm in solidarity with everyone working to end oppressive conditions… I fight racism, sexism, homophobia, transphobia, classism, ableism, ageism, xenophobia. I'm there for you when you're standing up for workers' rights, same-sex marriage, safety on our streets, safety in public restrooms.
Your voice is important. Maybe you don't know it yet. Maybe you think nobody wants to hear what you have to say. But they do. And they need to hear you.
I hope someday you find me, pick me up, press my button, and tell the world your story.