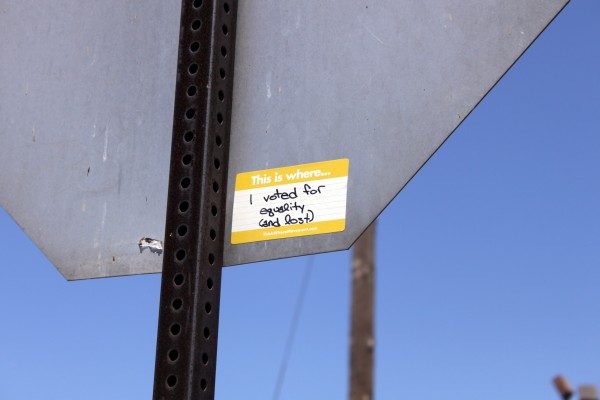 "This is where I voted for equality (and lost)"
On the back of a stop sign in front of La Mesa Adventist Community Church, 4207 Spring Gardens Road, La Mesa, California
On June 16th, 2008, California legalized same-sex marriage due to a ruling by the Supreme Court of California. On November 5th of the same year, California voters took that right away from same sex couples by passing Proposition 8.
I voted against Prop 8 at this church in La Mesa. I voted for marriage equality. The fact that this proposition was even on the ballot was upsetting. The fact that it passed was absolutely devastating.
Now the constitutionality of the ban is being challenged in a lengthy series of trials that is expected to escalate to the US Supreme Court. In the meantime, same sex couples still don't have the right to marry in California.