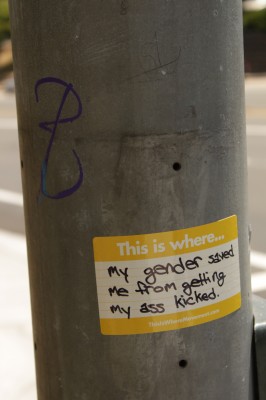 "This is where my gender saved me from getting my ass kicked."
On the lamp post in front of The Hills at Spring Street apartment complex at 4341 Spring Street, La Mesa, California – across the street from the Spring Street Trolley Station
It was late at night – maybe 2 or 3 AM. I was coming home from a party or something; I don't really remember. I pulled into my apartment complex's parking lot only to find all of the available parking was gone. Later I'd learn that the appropriate thing to do in this situation would be to park at the trolley station. But I was new to town and was intimidated by the prospect of walking alone at night past the people who called the Spring Street Station home.
I noticed somebody else couldn't find parking and parked in front of the complex's maintenance storage garage. I decided to follow suit, parking in front of the adjacent garage, figuring maintenance could still gain access to it, and I would move my truck first thing in the morning. What I was soon to learn was that these garages weren't used by maintenance, but rather rented to a few tenants to park their cars.
The next morning I didn't have a chance to move my truck before I was awoken by someone banging angrily on my door with his fist.
"MOVE YOUR FUCKING TRUCK! YOU BLOCKED ME IN YOU ASSHOLE! WAKE THE FUCK UP AND MOVE YOUR FUCKING TRUCK!"
My license plate was on record with the apartment complex, so he must have contacted them, and found my apartment number that way. His yelling and pounding on my door went on for a good ten minutes. This man sounded angry and violent. I wasn't about to open the door while he was standing there. As soon as he left, I quickly got dressed and went to move my truck. He was standing there waiting for me.
"Is this your truck?", he asked.
"Yes, I'm so sorry, there was nowhere to park last night, and I thought it was just storage inside, and I was planning to move it as soon as I woke up this morning, and I really didn't think I'd be blocking anybody in, I'm so sorry!"
I was frantic with tears in my eyes about the impending fist I was about to take to my left eye socket.
"Hey. It's OK. You made a mistake. As long as it doesn't happen again, we've got no problem here."
His tone changed like that. I'm not sure exactly why it changed so suddenly, but I have to think it had something to do with the fact that I'm a woman. My guess is he saw my truck, and assumed a guy drove it. And I'm still speculating here, but I think that he felt it was socially acceptable to be menacing and threatening and violent towards another guy, but not towards a woman. Of course, the tears in my eyes and panic in my voice probably also helped protect me from his wraith.
I moved my truck and never saw or spoke to that neighbor again.