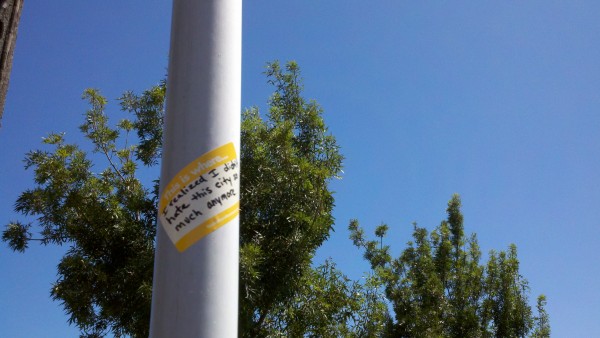 "This is where I realized I didn't hate this city so much anymore"
Stuck to a pole at the corner of Blaine Ave. and Centre St. – Hillcrest, San Diego
I packed up my entire life and followed my partner to San Diego. I sold my home, left a fulfilling job getting paid to do what I love, said goodbye to my dearest friends, community, chosen family – everything I'd built for the last decade in Boston. My partner hated the New England cold and we talked about moving somewhere warm. I'd visited San Diego before and enjoyed my time here… thought it would be a great place to live. I was excited when he told me that he got the transfer and promotion at work. But in the weeks before the move, I realized that I wasn't ready to go.
Lift-off in flight is my favorite moment, when the engines thrust and my body leaves the confines of Earth. When the plane took off that icy November morning from TF Green airport, I cried all the way to cruising altitude. I left my heart on that tarmac. Looking out of the triple-thick window pane as the East coast shrunk behind us and Chicago loomed ahead, I tried to imagine a life for myself in San Diego but drew a blank.
My first several months here were spent job-hunting, and going for long, intense runs in Balboa Park – fleeing the home-sickness that consumed me. From Golden Hill, I would gaze across the downtown skyline towards Point Loma and wonder when the outlines of the buildings would begin to look familiar. Displaced and alone, I would wander the city hunting for connection, home.
People were strangely "nice" in ways that made me feel uncomfortable. All this hugging was overwhelming. I'd meet people and they would give me their number exclaiming, "We should hang out soon!" But I quickly learned that nine times out of 10, they meant, "it was nice talking to you. Take my number because it's socially acceptable, but don't actually call me because that's just weird." I missed New England, where people didn't pretend to like you and you knew exactly where you stood. Where it's considered a sign of respect not to intrude on others' personal space, rather than being seen as standoffish. Where people would help a stranger in need without question, and talk to anyone about the Red Sox and the weather, but not assume bff status because you spent 5 minutes chatting at the dog park.
I hated San Diego. I even hated the sunny weather in December. I hated that it wasn't Boston, wasn't home. But I was here. So I shook every hand, accepted every invitation, forced myself through the discomfort of talking to strangers. Slowly I began finding community and meeting people I would call my friends. Eventually, I got a job. I found my bearings and could navigate the surface streets to get almost anywhere around town. I knew where to pick up good Vietnamese food and the best Mexican bakery for churros. It happened so slowly that I almost didn't notice.
And then on a cloudless March morning, I tilted my face to the sun and looked up at the saturated blue sky in wonder. For one brief moment, I felt a glimmer of warmth toward San Diego. I didn't hate it as much anymore.
It was San Diego, not Boston, where I came out as transgender. I had to move 3300 miles away to come to terms with myself. For that reason, San Diego will always hold a place in my heart.