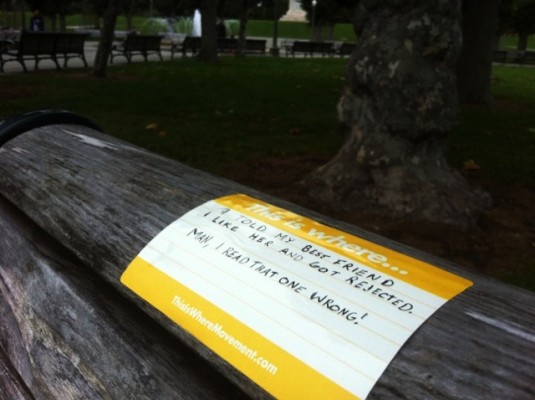 "This is where I told my best friend I like her and got rejected. Man, I read that one wrong!"
On the benches in front of the working fountain in between the De Young Museum and the California Academy of Sciences at Golden Gate Park in San Francisco, CA
I've had a rough year full of big changes. I totaled my car, lost my job, moved back home, had major surgery, the love of my life took up permanent residence in Never Never Land, and I lost my relatively young Grandma to cancer.
There has been one person who kept my head above water through it all. She made me laugh when I was down and put me in check when I was getting out of hand. She very quickly became my best friend and I inevitably fell for her.
After the whole panic attack I had when I discovered my feelings for her, I decided I should tell her how I feel ASAP before she moves to Boston at the end of the month.
I take her out for a great day in San Francisco as our last hurrah together on the west coast. After checking out the Picasso exhibit at the De Young Museum, we take a short walk and sit down on benches in front of a water fountain.
After struggling a great deal to string coherent sentences together, I finally tell how I feel.
It would have been a perfect scene from a movie where the two friends turned lovers kiss and the camera zooms out and fades behind the trees.
Roll credits.
But, this is reality and I discovered my place in the friend zone while random tourists asked me to take their picture.
Even though I struck out, she still means a great deal to me and I hope we remain in each others' lives for years to come.