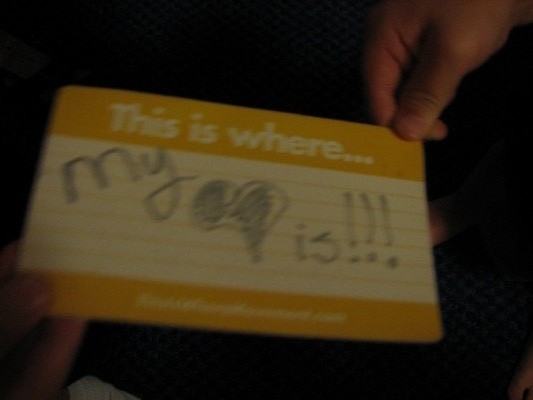 "This is where my <3 is!!!"
This photo was taken at the Red Roof Inn at SeaWorld San Antonio, room #240 I didn't want to stick it on a wall, a window, or a mirror. I was positive a cleaning crew would be promptly dispatched to remove it, following my departure of course. So I decided to give it to the people I came all this way to see, my children.
These are their hands. The hands I love. The hands that showed me my true capacity for that emotion. Endless. The hands that hold the breath in my body, and help wipe away the tears from my eyes.
I gave them this sticker to place wherever they wanted. Knowing them it probably made its way to the hood of a toy monster truck somewhere in the backyard of their home. A home I have never seen. A home where I am not welcome. A home exactly 1125.27 miles from mine, but feels even farther.
I love and miss them so much, and sometime I have problems dealing with that. Everyday it takes a little more out of me, of the very little I have left.
Maybe they stuck it on a picture of me? I would like to think they did.