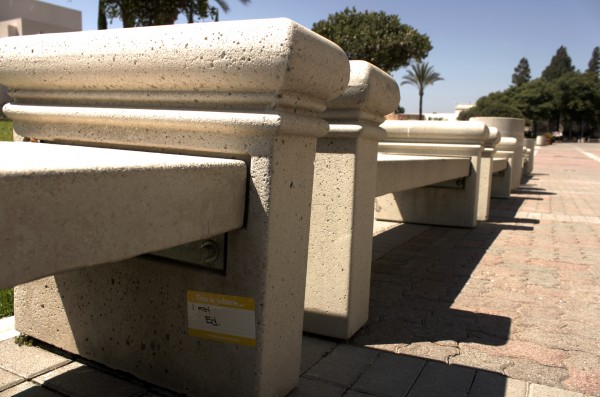 "This is where I met Ed."
On a bench in front of the Student Services West building on San Diego State University's campus in San Diego, California. Really, I feel this sticker belongs somewhere on the Aztec Center, but they tore it down.
Making friends in college was ridiculously easy for me. Upon moving in, I opened my dorm room door, and played Reel Big Fish loud enough for people in the hallway to hear it. Within a half-hour, a couple different people popped into my room, asking "you like Reel Big Fish? Nice!" At which point, we discussed punk rock and ska music and the various bands we liked. Don't judge. It was cool back then.
I assumed that when I packed up and moved to a different state to go to grad school, I'd make friends with similar ease. I was wrong. Grad school was seriously lacking on the social aspect that I had become so familiar with in college. Not living in the dorms meant much less time spent with my peers. And while I got to know some of my classmates in grad school, they were mostly older than me and in different stages in their life with careers and families.
So I had to make more effort to find friends. I joined my school's LGBT student union. That is where I met Ed. Ed wasn't the first person I met at SDSU, but he was the first friend I made. One day after LGBTSU, he asked me out. I said yes. We went on a date, but later decided that dating wouldn't work out.
We did end up being very good friends though, and hung out a lot. Ed later became my roommate, providing the almost college-like experience that I was looking for.
He's since moved across the country to go to grad school himself. I hope Ed's met his own "Ed" on the east coast. He deserves it.