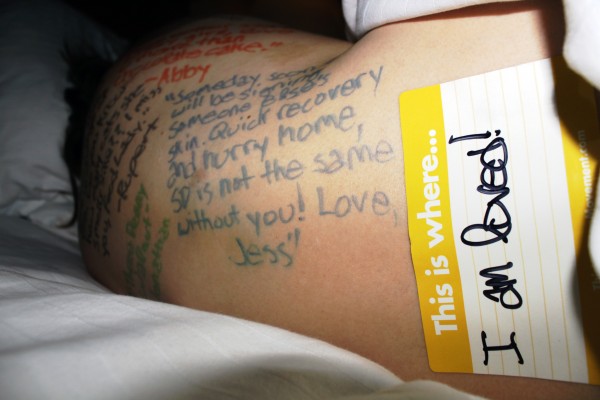 "This is where I am loved!"
On my back. In my hotel room, Scottsdale, AZ
I had just been released from the hospital after a major surgery. Not being an Arizona resident, I had to stay an extra few days in the area before I could go back home.
I spent a lot of time sleeping in a drug induced haze. My awake time was generally spent making my girlfriend, who was taking care of me, go out and get me food. I think she was bored and decided to conspire against me.
She got a bunch of my friends to send her personal messages. She waited until I started to fall asleep, and then proceeded to write these messages all over my back. She also decided to place a TiW sticker on my back to mark the occasion.
I really didn't know any of this had happened until I woke up to find I had become my very own get well card.
I have the best friends.