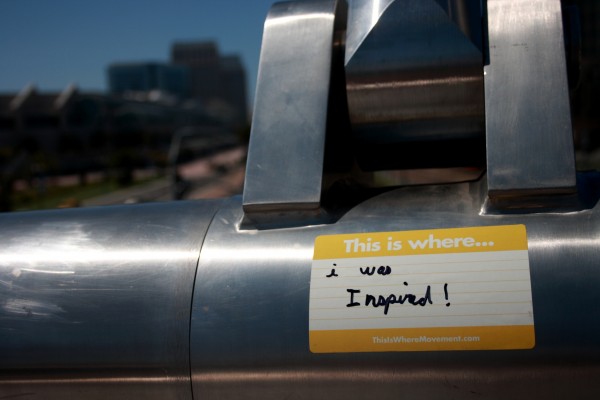 "This is where i was Inspired!"
On the Harbor Drive Pedestrian Bridge in downtown San Diego, CA
I got a call early in the morning by a friend. "We have an extra ticket to this art show. Come!" She said.
I hopped out of bed and quickly got ready. I wasn't really sure what I had stumbled into, but I was ready for adventure that day, and figured if nothing else, it would be a day filled with friendship.
Turns out we were heading to the 2011 San Diego Contemporary Art Fair at the Bayside Hilton. This was a HUGE collection of art from around the world.
The first thing we came across was the (In)Visible Project. I was floored. I stood there staring at the black and white photos surrounding me and reading the stories. I admired the constructed nature of the exhibit and how it played into the theme. It was heart wrenching and honest and stark. Being surrounded and forced to confront homelessness was amazing. And just when I was grasping on to that last bit of insulation between me and the people in the photos; that last tangible sense of comfortable distance from the subject matter, the speakers overhead sprang to life with the voices of the people telling their own stories. It destroyed me. The stories were heart breaking, and warm, and funny, and inspiring.
The illusion was gone.
I cried.
After composing myself, we headed into the main room where we were confronted with a gigantic sculpture of a face. We systematically proceeded to walk around the entire ballroom taking in art in every different style and medium. It was glorious just to be surrounded by so much art.
After several hours we were all exhausted. We sat outside on the balcony for a while overlooking the harbor and enjoying the breeze. We then headed out and started walking back home. As we walked across the beautiful pedestrian bridge it hit me just what an inspiring morning it had been and knew I had to place a sticker. I am thankful to my friend for inviting me along, and I am thankful to my city for hosting such an event.