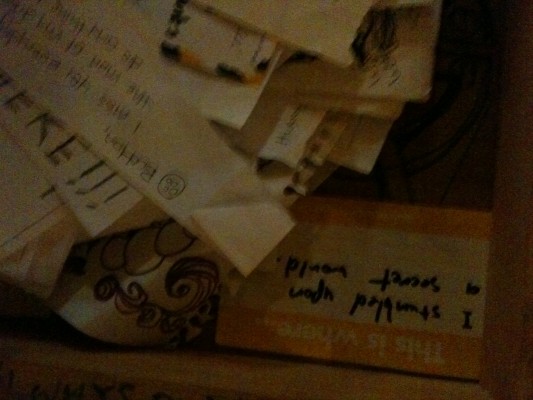 "This is where I stumbled upon a secret world."
In a drawer, in a coffee table, in Filter coffee shop, in North park, in San diego, in California, in the USA.
Several months ago, my friend and I were hanging out at Filter coffee shop. While we were enjoying our coffee and conversation, my friend reached down and randomly decided to open the drawer in the coffee table. To her surprise she found dozens, maybe hundreds of little scrap pieces of paper with little notes and messages scrawled out on them. Some were touching secrets, some jokes, some doodles. Many had replies continuing the conversation, or making fun of original author or taking it in some other direction altogether.
We smiled.
A few minutes before we were in Filter. But now, we were swept up into this secret world connecting us with all the people who had discovered this world before us. We read every single one and shared our favorites with each other. After we got thru them all, we grabbed some paper and a pen and scrawled out our own.
It made our night.
Every time we go back, we check the drawer to find the new messages. Every time, someone has replied to our notes. We each write something else and contribute it back to this delightful box of found art.