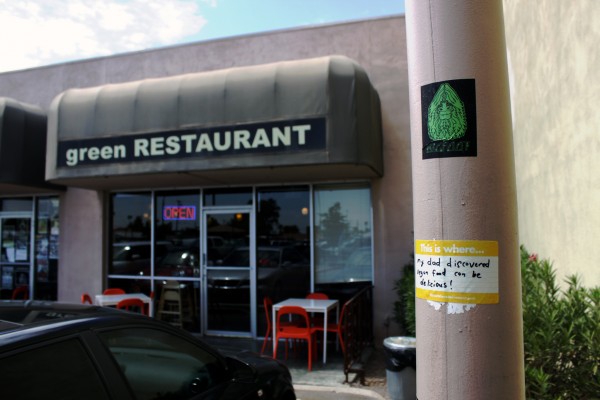 "This is where my dad discovered vegan food can be delicious!"
Outside of Green restaraunt, Tempe, Arizona
My parents are from the Midwest. They are stuck in the mentality of "if it doesn't have meat and potatoes, its not a real meal." Since I moved away from home, I have branched out. I am continually trying new foods and discovering meals that I never would have thought I would like.
Now whenever my family visits, I try and expand their horizons. It can be a bit… trying at times. But we are making progress. On one such occasion, I decided my dad needed to try vegan food. He was VERY hesitant. Tofu, mock chick, and the like seemed so foreign to him. I kept explaining that it was delicious, and that he's actually eaten vegan food before, he just never thought of it as such.
After much convincing, we ended up at Green restaurant. I helped him pick out a dish taht seemed the easiest entry point for him. When the food came, he cautiously gave it a try. He chewed and pondered. Then looked at me and said, "Not bad." He ate a few more bites and "not bad" became "This is actually pretty good!"
He then proceeded to finish the meal without saying another word.