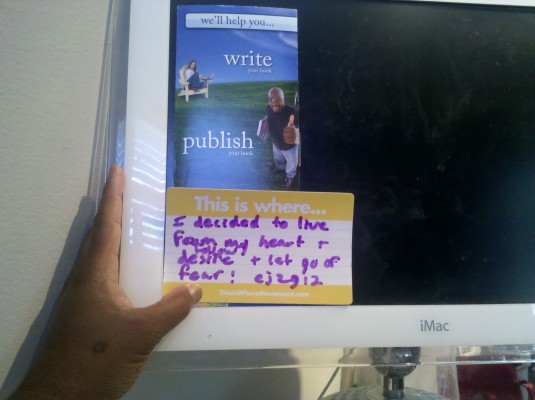 "This is where… I decided to live from my heart + follow desire + let go of fear!  ejzg12″
My friend's office/my bedroom.
On my computer or my desk or my friend's desk. It's a traveling sticker :p
North Park, San Diego, CA
I was homeless this summer. Sort of. I didn't have money and I didn't know how I was going to pay my rent. I am a full time, A student. I had the opportunity to take AMSL IV (American Sign Language 4) this summer but there was no financial aid available. This class is usually only offered in the spring, so I would have had to wait 8 months to be in class again and I thought that would be just the right amount of time to forget everything from AMSL III. I was talking with my awesome friend and they said I should just move in for the summer. If it worked out we could talk about me staying longer. I started paying rent at the end of August, as soon as my financial aid for Fall Semester was deposited in my account.
Besides being a full time student, I am a full time poet! and a full time dreamer! I have a blog (ejzg.wordpress.com) where I've narrowed it down to this simple (but not easy) rule: Anything that comes into my pretty little head that I want to share can go there. It's my safe place. It's my way of adding my energy to the world. And I could only create that safe place by being in the safe, supportive, environment that my friend has graciously allowed me to live and grow in. I changed my blog and attitude about writing and life on Sept. 4th, 2011 and that's about when I wrote the sticker.
Yesterday, a friend was over to use the bathroom and saw it and said I should post it here so…here I is ;p