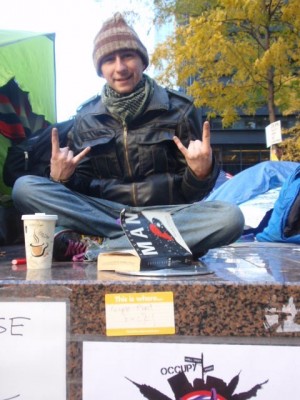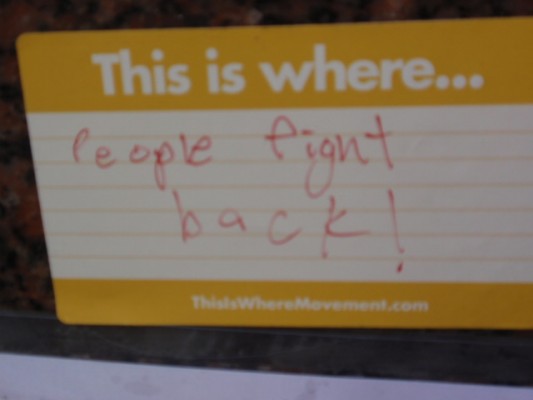 "This is where people fight back!"
A wall at Zuccotti Park, NYC
I went to NYC to visit a friend, and being a liberal-minded young American, I wanted to drop by Occupy Wall Street and show my support. There is a lot of good stuff happening there – volunteers going around to pick up trash, a library tent, medical tents, food tents, even a guy who's hooking up bicycles to batteries as a way to generate electricity for the occupiers (he was at the sustainability tent). I knew this was a place I wanted to put a sticker, but I felt awkward writing it myself. After all, I haven't been sleeping in a tent in the cold and staying in the park day in and day out since September. So I asked a very nice protester to write something on the sticker instead. He wrote:
"This is where people fight back!"
I placed the sticker on the wall under where he was sitting, and walked around the park a little more. I eventually found a woman who has been going to the park every day, setting up a lawn chair, and knitting for those who stay in the park overnight. She gave me some yarn, and I made fingerless gloves with her. I can't stay at the park myself, and the least I can do is help keep everybody there warm.