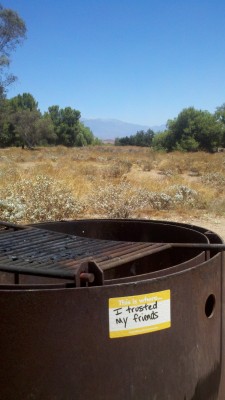 "This is where I trusted my friends"
Sticker is placed on the grill at a Lake Perris campsite.
Friendship doesn't come easily to me. This sounds strange to folks who know me because I connect easily to people and appear outgoing and social. However, I have only a handful of people who I count as real friends.
I was about to move to a city where I knew nobody. My friend Mike said, "I know you aren't going to believe me. But you're really good at making friends and you're going to make new ones out there before you know it." I shook my head. What did he know? He just thinks so because he's shy and in comparison I look like The Great Gatsby.
When I was 7, my best friend in the whole world suddenly stopped talking to me. I didn't find out until I was a teenager that it had nothing to do with me: her father was an alcoholic CIA spook who tried to make my father an asset and failed. He was directed to cut ties with our family. Tell that to a 7-year-old.
I keep most people at a distance. They don't realize it because I share plenty of seemingly personal stuff about myself. But getting into the inner circle is something few people have done. And once you're there, I don't give up on you easily. Someone asked me once, "How do you know when someone has actually crossed the line and become a friend?" I haven't the faintest.
I posted this sticker on a camping trip I took this summer with some of the people who I now consider friends. Family even. This time it was a conscious decision to let them into my heart. Maybe they will hurt me, disappoint me, even leave me. I'm not 7 anymore; I'll risk it and choose love and friendship.