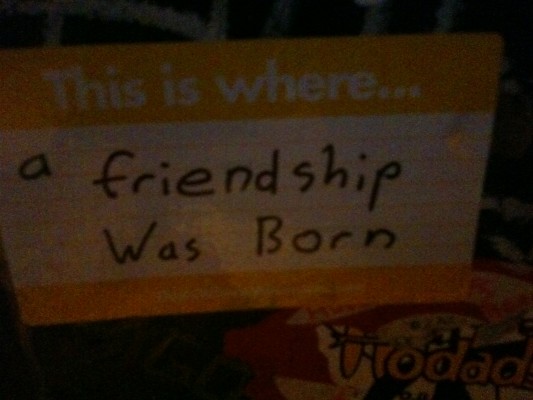 "This is where a friendship was born"
On the inside roof of the bus at Hodad's burger joint in Ocean Beach, San Diego, CA.
"You should come. You can meet my friend, you'll like her, you two are a lot alike." he said. I thought "Who are you to tell me who I will or won't like?" I decided to go anyway. What did I have to lose?
I thought she was a bitch.
The next week, however, I attended another function where she showed up. We got to talking and she seemed pretty cool. I was still unsure, but I had revised my 'bitch' theory. We ended up exchanging numbers and she gave me the "yeah sure, we should hang out" line.
I wasn't sure if she was serious and actually wanted to hang out, or was just being nice.
About a week passed, and I decided to try and work up the courage to ask her to hang out. Shaking, I sent a text message. To my surprise she actually did want to hang out. She suggested Hodad's, informing me that it was a bit of a San Diego institution. I had no better ideas, so it was on.
We met, we ate, we hit it off really well, and within about 3 weeks time she became the closest friend I ever had.
I hadn't been to Hodad's since that night until I went to place this sticker. And yes she was right there with me.