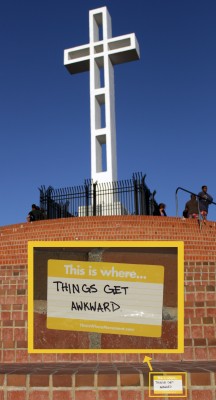 "This is where things get awkward"
On one of the South steps leading up to the cross at the top of Mount Soledad. At Via Capri and La Jolla Scenic Drive South in San Diego, California.
This cross stands on public land, despite the fact that it is unconstitutional to display religious symbols on government-owned property. It memorializes American soldiers who fought in World War II and the Korean War – not all of whom were Christian. Furthermore, it is erected on top of a small mountain in La Jolla, as if to tell locals and visitors alike, "this is a place for Christians". All in all, it's pretty awkward to be a non-Christian in this city.