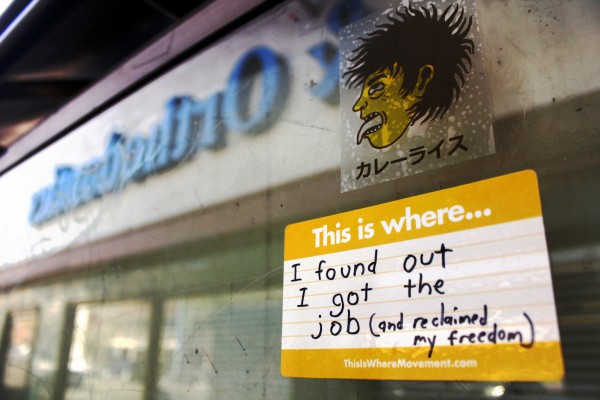 "This is where I found out I got the job (and reclaimed my freedom)"
On the back of the bus stop on the corner of 30th and University, North Park, San Diego, CA.
I was in the midst of a breakup of a 10 year long relationship. I was unemployed for almost a year. I had just moved out on my own, to an apartment I couldn't afford. I was scared and felt alone and didnt know how I was going to handle this new chapter in my life.
I FINALLY scored an interview. The company sounded awesome… exactly the kind of place I wanted to work.
I walked into the interview that day anxious, but excited. I felt a LOT was riding on this interview. I thought this was my chance to not only get a job so I could support myself on my own, but also get a job I actually LIKED.
I rocked the interview.
I felt pretty good, and wanted to go out that night to celebrate getting the interview. On the way to the restaurant that evening, we were stopped at the light at the intersection of University and 30th and I got a phone call from the recruiter. He told me "Go out and celebrate. You got the job! They LOVED you!"
It felt like the weight of the world was lifted from my shoulders. I knew that I was not only going to make it… but be able to thrive on my own.