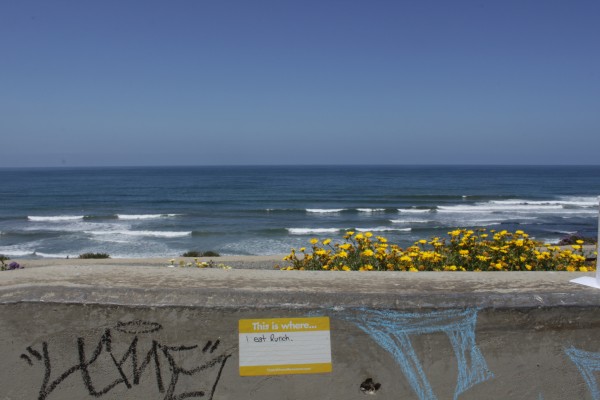 "This is where I eat lunch."
This little sticker is stuck to the concrete barrier just past the West end of Little Orphan Alley in Del Mar, California, USA. Latitude: 32.950991 degrees, Longitude: -117.265148 degrees.
As a transplant to Southern California from a cold-in-the-winter, hot-in-the-summer state, landlocked in the middle of the country, I make it a point to enjoy the place I now find myself living in. Sometimes it's the mild weather. Other times it's palm trees and taquerias on nearly every street corner. But mostly, it's the ocean.
I always find myself disappointed in the sort of nonchalant attitude coastal California natives seem to have towards the ocean. "Maybe I'll go to the beach today or maybe I'll stay in and watch that episode of Dexter I've already seen 13 times". It's the Pacific Ocean! Do you understand that? It's the world's largest body of water – the very same body of water that laps at the coastlines of Chile and China and Papua New Guinea and Peru. And those waves crashing? That happens whether you're there or not. Consider yourself lucky for being able to witness it.
In an effort to not take for granted the amazing place I live in, I make it a point to visit the ocean on a near daily basis. Usually, that trip takes the form of a lunch break from my 9-5 desk job in Carmel Valley. For that hour I forget whatever's stressing me out, and just sit and wonder about the sea. I like to think about how I am at the edge of an entire continent. Sometimes I pretend that I am a Captain and North America is my ship. People worry about California sinking into the sea. As the Captain of this boat, I suggest you sit back and enjoy the ride. Maybe you'll get to meet an octopus.