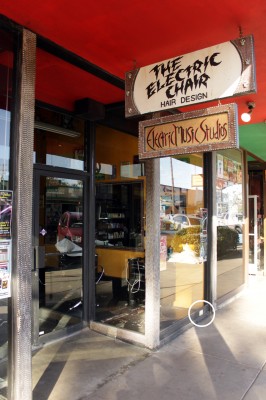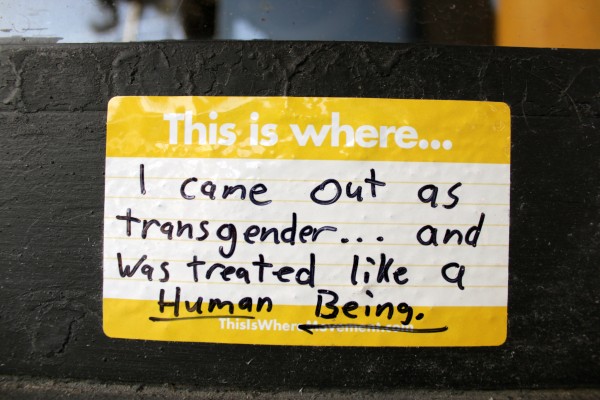 "This is where I came out as transgender.. and was treated like a Human Being."
Under the window of the Electric Chair hair salon in Ocean Beach, San Diego California.
I'm transgender, and was mid transition from male to female. I was still mostly presenting as male, but was starting to venture out more as a girl. I really wanted to start looking more feminine, and my hair was a big part of that. Plus it was finally long enough and getting really shaggy that I just needed it cut anyway.
I chose the Electric Chair because it seemed 'hip' and figured I probably would have less a chance of getting harassed there being a 'guy' asking for a women's haircut. Plus it was in a different area of town than I was living so there was an anonymity factor.
When I walked in, and met my hairstylist Nikki, she asked me what I wanted to do. Nervously, I told her I wanted her to make it girly. She looked at me kind of weird and hesitated a bit. She started to ask questions to try and figure out exactly what I was looking for, so I mustered up the courage to say "I'm transgender, and transitioning female-wards. I really want it as feminine as possible, but I still need to be able to pull it back for work, as I'm not out there yet." To which she unflinchingly replied "OH that makes sense. I just wanted to make sure you knew what you were asking for. Heres what we can do." and proceeded to tell me all the fun things she could do to make my hair look pretty.
When she got to the end where she started blow drying it and styling it she was respectful and asked if I wanted it styled femme or not since she wasn't sure how feminine I wanted to be looking while still in 'guy' mode. I told her to go for it. She then proceeded to spend extra time on it and made it look really nice.
I have been going to her ever since and as I proceeded and eventually completed my transition, she has been nothing but respectful and supportive and even excited for me.
This is the first time I had come out to a stranger and she made me feel like a human being who deserved respect. Thank you Nikki.