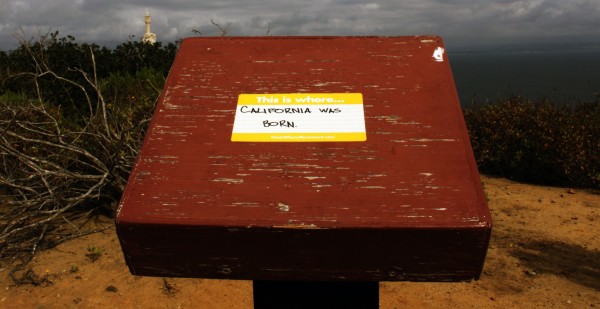 "This is where California was born."
On an otherwise blank sign on the path to the statue of Juan Rodriguez Cabrillo at Cabrillo Point, Point Loma, San Diego, California.
The story's not mine so much as it is the entire West Coast's. In 1542, Juan Rodriguez Cabrillo, a Portuguese explorer traveling on behalf of Spain, was the first European to arrive at what is now America's West Coast. Traveling North from Mexico, his first stop was the tip of San Diego's Point Loma peninsula. And that's all well and good, if you're into the whole this-place-is-historically-significant thing.
What I'd like to focus on more though, was the actual placement of this sticker. I went to Cabrillo National Monument to enjoy views of the ocean, Coronado Island, and downtown San Diego, when I happened upon this blank sign. It was a signpost that looked like it was meant to provide the visitor with some historical relevance of the spot or at least give credit to a deceased married couple who had donated some portion of their amassed savings to maintenance of the monument in their will. I don't know. Maybe the plaque was out getting cleaned or something. But to me, it was just a blank signpost. So I fixed that.
I scribbled some words onto a 'This is Where' sticker and affixed it to the sign. I was not prepared for the immediate authority those words would assume by their placement on an old, salty piece of wood. "This is where California was born", a father read to his son only moments after I had placed the sticker. "Juan Cabrillo landed at this point, and declared it to be California." As it so happens, that is in fact, false. Nevermind that they were handwritten letters formed by a Sharpie on a god-damned bumper sticker. This man ignored all of that, and assumed historical fact simply because it was on a sign at a monument. I left, snickering at the inaccuracies I polluted that child's (and that man's) head with. I imagine this is what it feels like to sit on the Texas Board of Education.
If you'd like to read more about what Cabrillo really called this place, Wikipedia's a more reliable source.