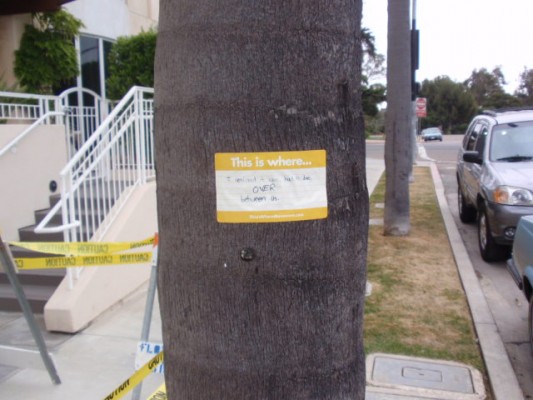 "This is where I realized it had to be OVER between us."

Stuck to a tree in on the edge of Hillcrest, in San Diego, CA.
Have you ever been in a relationship (any kind of relationship – friendship, family, professional, romantic, other) with someone, and even though you knew deep down that something is wrong, you were reluctant to give any serious thought to the matter? And then when finally you were forced to think seriously about your misgivings, the situation had gotten far out of control that all sorts of emotions stayed with you for months, possibly years, after you severed all ties with that other person?
I placed this sticker where I was forced to think seriously about my misgivings. After all the arguments and threats, the phone calls that crossed the line into harassment, the flip-flopping of approaches that made me doubt my own mind – this sticker exists. It is placed, on this tree, in the exact spot I accepted the relationship needed to be over. It is firm, and fixed, and you know what? Putting it there made me feel a whole lot better.