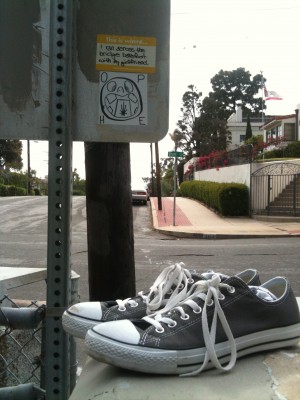 "This is where I ran across the bridge barefoot with my girlfriend."
On the back of a street sign on the West end of the Spruce Street suspension bridge, Mission Hills, San Diego, California.
On the walk back to the car from the coffee shop, my girlfriend had taken off her sandals. "That feels better", she said. I knew what she meant; the sandals were new and causing her feet to blister. And while I was comfortable in my grey Chuck Taylors, I decided to take my shoes off as well. "That does feel better", I replied.
We continued to walk, hand in hand, enjoying the warm concrete beneath our feet. We reached the Spruce Street pedestrian bridge. It's one of my favourite spots in the city. I like it for the views it offers and how easy it is to forget you're in an urban area. I like that it's hidden and that many San Diegans aren't even aware of its existence. But mostly, I like the way it bounces. It's a suspension bridge connecting two sides of a canyon and it bounces the way a playground bridge bounces under the weight of children jumping on it.
We'd probably been on that bridge half a dozen times. But this time was different. Still barefoot, we looked at each other, and then looked down the length of the bridge and back at each other once more. And then we ran. We tested that bridge's elasticity with every leap, and when we reached the end, we laughed and fell into each other.
This is where I learned to appreciate the simple pleasures in life.