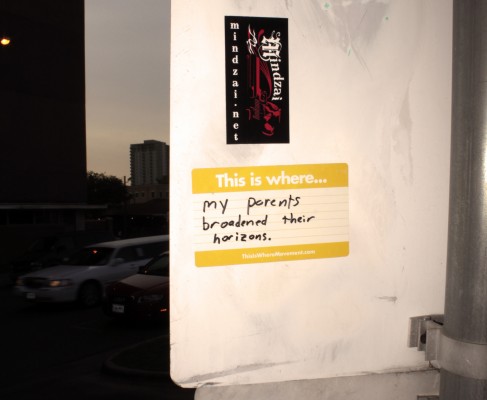 "This is where my parents broadened their horizons."
On a sign next to the parking lot of the Clay Pit restaurant (1601 Guadalupe Street) in Austin, Texas.
My whole family grew up in a small town in the midwest. My parents are not terribly adventurous, especially with regards to food. Their idea of a wonderful, fancy meal is going to Olive Garden whenever we visited a city and their idea of adventure is the wackiness at TGIFridays. Not that I want to rag on my parents; they are wonderful people. But its increasingly clear that when they told me I should "be more adventurous" with food, it really meant "eat your carrots." Little did they know, telling me "you should try everything at least once" would come back to haunt them. After my brother and I moved out of the midwest and into bigger cities, we both started broadening our horizons with all the tasty delights that they had to offer. Naturally, we wanted to share this with our parents.
So when on vacation in Austin, my brother and I decided to drag them to Clay Pit, which is an AMAZING Indian restaurant. It took a LOT of convincing. They had never eaten Indian food before. And they had already built up a lot of preconceived notions about what it would be like. And they had decided they would NOT like it.
We ordered several dishes and naan of course. We started them off easy. Naan is bread… its yum. Next up was korma. Then something a little spicier. Then the floodgates opened and they realized that Indian food was, indeed, delicious. Now every time we are in Austin its a requirement to go to Clay Pit.
Mission accomplished.