Near my house in San Diego, CA next to this sticker.
Claire and I often exchange emails while we are at work. On this particular morning, I was just telling her about a recent crush I had and possible date and how excited I was.
She barely responded to it.
I felt kind of shut down. I had some cool things going on in my life and Claire was seeming distant. But I figured she was busy at work and went about my business.
Towards the end of the day, I finished with an email saying "ok I'm done for the day, time for me to head home" to which she responded "ok, have fun. *gulp*"
I didn't understand what that was all about.
Until I got home and saw her 'This is Where' sticker on my door asking me out.
I was shocked. It was pretty unexpected. Claire and I were great friends, but I didn't really think she was attracted me in that way. Hell I didnt even think she was attracted to anyone in that way. In the entire time I have known her, I have not seen her date, nor really express interest in dating anyone. She has been pretty content with being single. I even remember, as I was going through all sorts of emotions attached to my divorce I mentioned that I was starting to get excited about some of the possibilities being single would bring and starting to get comfortable with the idea of singleness. She replied "of course you should be excited. Being single is better."
Now, I had my reservations. This was coming fairly soon after splitting up with my wife. I didn't want to destroy such a great friendship. I knew being good friends that if we were to get in a relationship it would HAVE to be a more serious one… we just had too much of a history and too much to risk to be a 'casual' thing. I was hesitant about getting into another serious relationship so soon. I was hoping to date casually for a while before seeking something like this out. I knew there would be issues brought up in terms of my ex and how it would feel to be moving on and stuff. I guess I wasn't sure if i wanted Claire to be my 'rebound date' so to speak. Plus I know we both have some weird hangups that would certainly impact a relationship.
But all that was overshadowed by the fact that I was so excited and happy that she asked me out. I admit that I had been developing a crush on her in the months since splitting with my wife, but I never expected it would amount to anything. And certainly never imagined SHE would be the one asking ME out. And here it was, on this glorious little sticker, from a project we have worked so incredibly hard on, Claire putting herself out there. It made me feel like the entirety of the project was building up to this moment… almost as if it was created just for me. It was adorable and cute and awesome and fun and playful and unique and I just KNEW how naked she must be feeling at that moment.
I immediately grabbed my phone and called her and said "Yes. Of course."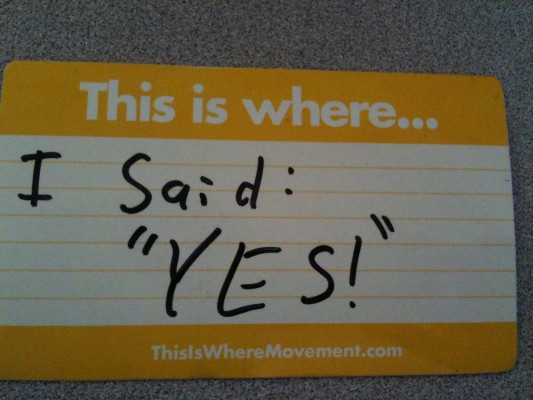 "This is where I Said: 'YES!'"