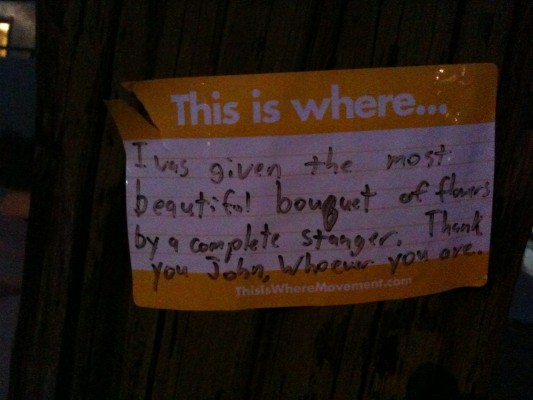 "This is where I was given the most beautiful bouquet of flowers by a complete stranger. Thank you John, whoever you are."
On a telephone pole right outside of The Center.
On Centre street, Hillcrest, San Diego, CA
I was hanging out in Hillcrest waiting for a friend of mine when I see a man walking down the street holding a HUGE bouquet of flowers. It was MASSIVE – clearly designed to impress. It struck me as odd, because the guy carrying them looked kind of scruffy and was dressed in sweatpants. I was curious.
This man approached me and then asked "Do you have a boyfriend? or husband?"
I replied that I didn't.
He said "Oh, ok. Here." and handed me the flowers.
I looked at him and told him I couldn't accept these.
He then told me "it's ok, I was meeting a friend but she didn't show up. I don't want them to go to waste." He looked melancholy. He told me he asked about a boyfriend because he didn't want him to get jealous.
Stunned, I thanked him for the flowers. He told me his name was John. And he told me to enjoy the flowers, and then he walked away, and left me holding this massive bouquet of flowers.
And then I began to wonder what his story was.
Was there a long lost girl that he was hoping to make an impression on?
Was it an ex he was trying to rekindle something with?
Was someone playing a prank on him?
Did this girl not show because something came up? or was it more malicious than that?
Did she ever intend to show up?
Was it someone he had just met recently that he figured he had one shot to try impress?
Was it even romantic? It certainly SEEMED that way.
All these possibilities and I will never know what his story was.
I did enjoy the flowers.
Thank you, John. They were lovely.