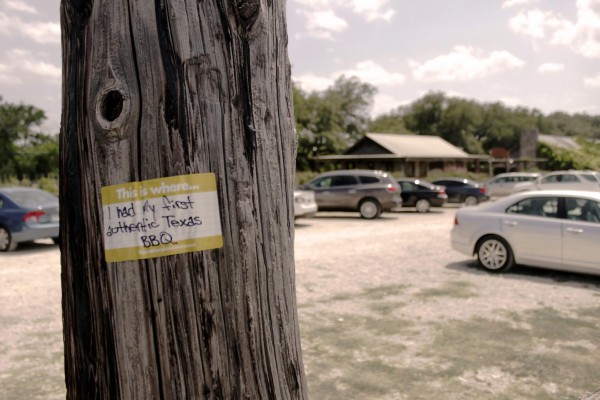 "This is where I had my first authentic Texas BBQ."
Salt Lick BBQ, Austin, Texas, ya'll
Where I come from, "barbecue" just refers to food cooked on a grill. You might have friends over for hamburgers and hotdogs cooked on the grill, and call that a "barbecue". But that's not even close to what barbecue really means.
Barbecue is the technique of slow cooking meat over charcoal or wood coals. It doesn't matter if it's indoors or outdoors. It doesn't matter if you cover it in sauce or a dry rub. If it's cooked this way, it's barbecue.
After several years of imitation 'cue, I got an opportunity to visit Texas and try the real thing. There was an enormous pit with copious amounts of meat, plenty of picnic table seating, a BYOB policy, and a waiter who used the word, "ya'll" at every opportunity.
We ordered our meal family style. We ate obscene amounts of brisket and ribs and sausage. And it was delicious. We also got generous portions of southern hospitality, with complimentary wine from their vineyard, and free cobbler for our basket of meat going empty for an entire three seconds. It was quite the satisfying experience.
This 4th of July, I may be enjoying hamburgers and hotdogs cooked on the grill, but I definitely won't be calling it barbecue.