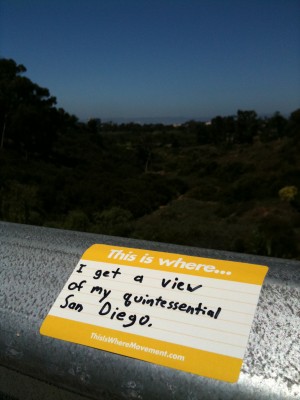 "This is where I get a view of my quintessential San Diego."
Bridge over Switzer canyon between North Park and South Park in San Diego, CA.
I love walking this little section of road. Taking the time to cross the bridge by foot instead of car lets you linger a bit at the view. And this is a view, that to me, sums up what San Diego has to offer. You are standing in what is the middle of a quiet park side neighborhood. You are looking out over a canyon and across Balboa park towards the ocean. In the distance you can see downtown and the San Diego skyline.
This is what San Diego is about. That glorious blend of the outdoors and the urban. Nature juxtaposed with City. Desert canyons and beautiful oceans.
It is a lovely place to be.