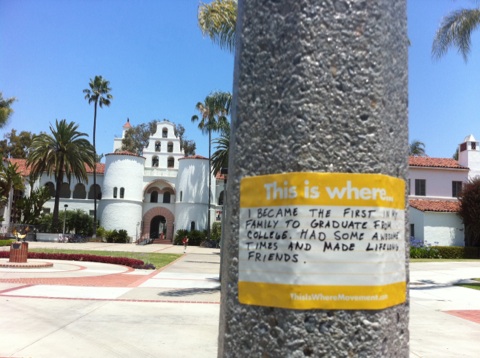 "This is where I became the first in my family to graduate from college. Had some awesome times and made lifelong friends."
I put this sticker on a lamp post outside of Hepner Hall at SDSU. It seemed to be the best SDSU landmark still standing to get my point across for this submission.
Leaving home and putting myself through school at SDSU allowed me to realize my dreams and create incredible times in the process. I met ridiculously awesome people, created an abundance of fun times, and became the first person in my family to graduate from college.
College wasn't all fun and games, it was hard work. I mean simultaneously having three internships, two part-time jobs, and going to school full-time status.
Thank you, SDSU for giving me great friends, a degree, doctor mandated liver function tests, and an unhealthy tolerance for highly caffeinated beverages.
AZTEC FOR LIFE!