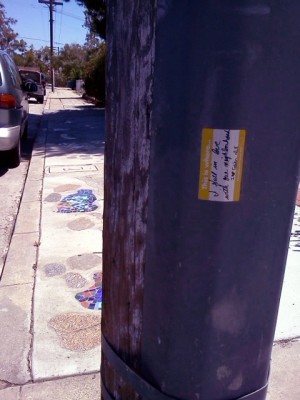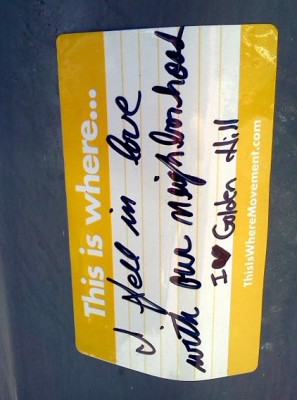 "This is where I fell in love with our neighborhood
I <3 Golden Hill"
Stuck to the protective metal on telephone pole on 26th Street, between Broadway and F Street.
When we first moved here from Phoenix we didn't know anyone. I had found our apartment by chance- the guy I bought a belt from at Horton Plaza asked me what I was doing in San Diego, and I told him looking for a place to live. He said there was a three bedroom opening up in his complex, and dug around for his landlord's number. I went to see the place and listened to the traffic from the 94 wandering in through the windows, spent a minute or two lost in the view of rooftops and palm trees, exchanged a look with my friend, then took a deep breath and said, "Yes."
I spent a lot of time walking the neighborhood those first days here, exploring the city I fell in love with and getting to know her a little better, and feeling her out to see how she felt about me.
It had been a huge leap of faith for me to move my family here, and most of my friends thought I was crazy for doing so, especially after thirty years or so establishing a life in AZ. I knew I loved San Diego, and it felt like home to me, but everyone else's voices were still in my head nagging, "No, AZ is home, you'll realize that once the shine has worn off."
One day while walking I crossed the street in front of our complex, and noticed that someone had filled holes in the sidewalk with mosaic tile pieces. They reminded me of the ocean, a lot of blue, and of my mother's eyes, and of that feeling you get when you're creating a piece of art, expressing yourself in ways words and gestures can't. It was like a welcome mat my muse had put down for me. I smiled and realized yes, this was indeed home. I let myself fall in love with Golden Hill without knowing who had laid art at my feet, or just how much more this neighborhood has to offer.
This is the place a neighborhood became home.