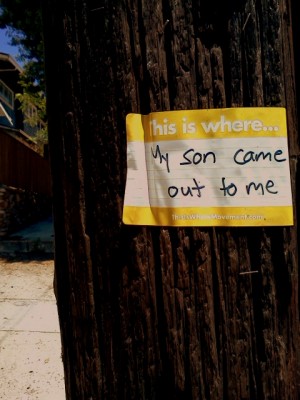 "This is where my son came out to me"
On a telephone pole on F Street, between Glendale and 26th Street, San Diego, California
My son, 19, seemed restless. "Mom, you wanna go for a walk with me?"
This wasn't surprising, he'd been going for walks every night and I occasionally joined him. "Sure," I said.
We started out on 26th Street, and as we walked I talked and talked and talked. I talked about my boss, my boss's son who was serving in Iraq, about my latest writing project, etc etc. I talked all the way to Broadway, all along Broadway, down the stairs to Glendale and all down Glendale. I kept hearing this clicking noise, and when I glanced over I realized my son was biting his nails. "That's weird, he doesn't usually bite his nails," I thought, then shrugged it off….and kept talking.
Finally, as we were halfway up the hill on F street, my son interjected, "Mom, I have something to tell you."
"Ok," I said, as we stepped up onto the curb after an alleyway.
"You probably know this already, but I'm gay."
We both stopped in our tracks. I turned around, let out a little scream, grabbed him and hugged him, and cried into his chest, "I'm so happy for you!!!"
We laughed, I jumped up and down a little, and he said, "Well, bi, but mostly gay."
I laughed again and said, "Can we have a party?"
He shook his head and chuckled, "I don't care."
At that moment the person who lived in the house whose yard we were next to popped his head over the fence and said, "Hi!"
My son and I called out our greetings, then walked up the rest of the hill to our apartment complex.
My son was right, I did know he was gay, and he knew I would be accepting of him, but we also both knew that didn't make it any easier for him to come out to me. The amount of relief I felt on his behalf I think only a parent can truly understand. The tears I cried weren't of sadness, or disappointment, or even of just happiness- they were a release of years of waiting for him to feel comfortable enough with himself to let the world see everything that he is, to finally really be himself. It is one of my happiest moments as a parent- and as a person.
It not only opened things up between my son and I, it served as a reminder to take a breath, shut the hell up once in a while, and listen. : )